With the new combination from LITOZIN®, people experiencing joint discomfort no longer need to buy and try several individual products. LITOZIN® Collagen combines multi-ingredients into an all-in-one capsule.
What is Collagen?
Collagen is the main structural protein in the extracellular space in the various connective tissues in animals. As the main component of connective tissue, it is the most abundant protein in mammals, making up from 25% to 35% of the whole-body protein content.
Collagen is found in bones, cartilage and connective tissue. It is Collagen Type II, which is used in LITOZIN® Collagen.
What is Copper and why is it a part of LITOZIN® Collagen?
Copper contributes to the normal formation of connective tissues. A cause and effect relationship has been established between the dietary intake of copper and maintenance of normal connective tissues.
What is Vitamin C and why is it part of LITOZIN® Collagen
Vitamin C contributes to normal collagen formation for the normal function of cartilage and bones. It also contributes to the protection of cells from oxidative stress and the regeneration of reduced form of vitamin E.
Declaration 1 tablet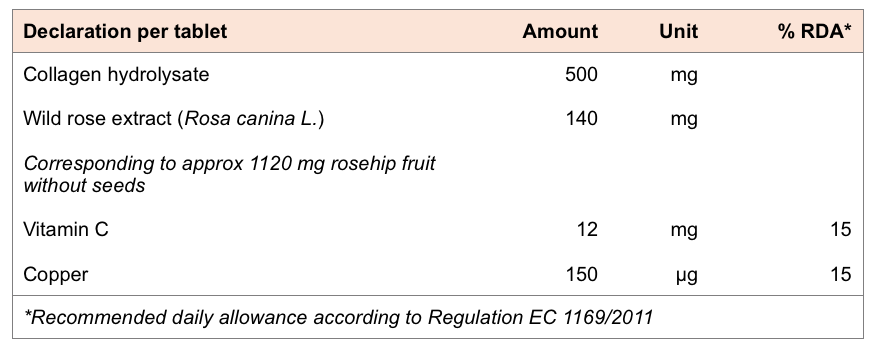 1 tablet a day. Swallow with water. Should preferably be taken together with a main meal.
This product is part of our product range. Not all products may be available in your country. You are welcome to contact the distributor of your country or Orkla Health AS for more details.